Donations & Payments
Better Donations and Payments Processing for Small Nonprofits
Simple donation buttons, complex payment forms, or custom-branded donation campaign landing pages – any payment you need to take, you can set it up on Flipcause.
At Flipcause, your money and your data always belong to you.
Seamless donations on your website
Every website needs built-in donations that are easy to use. Add a custom button that popups up to a donation widget, or embed your donation form directly on your page.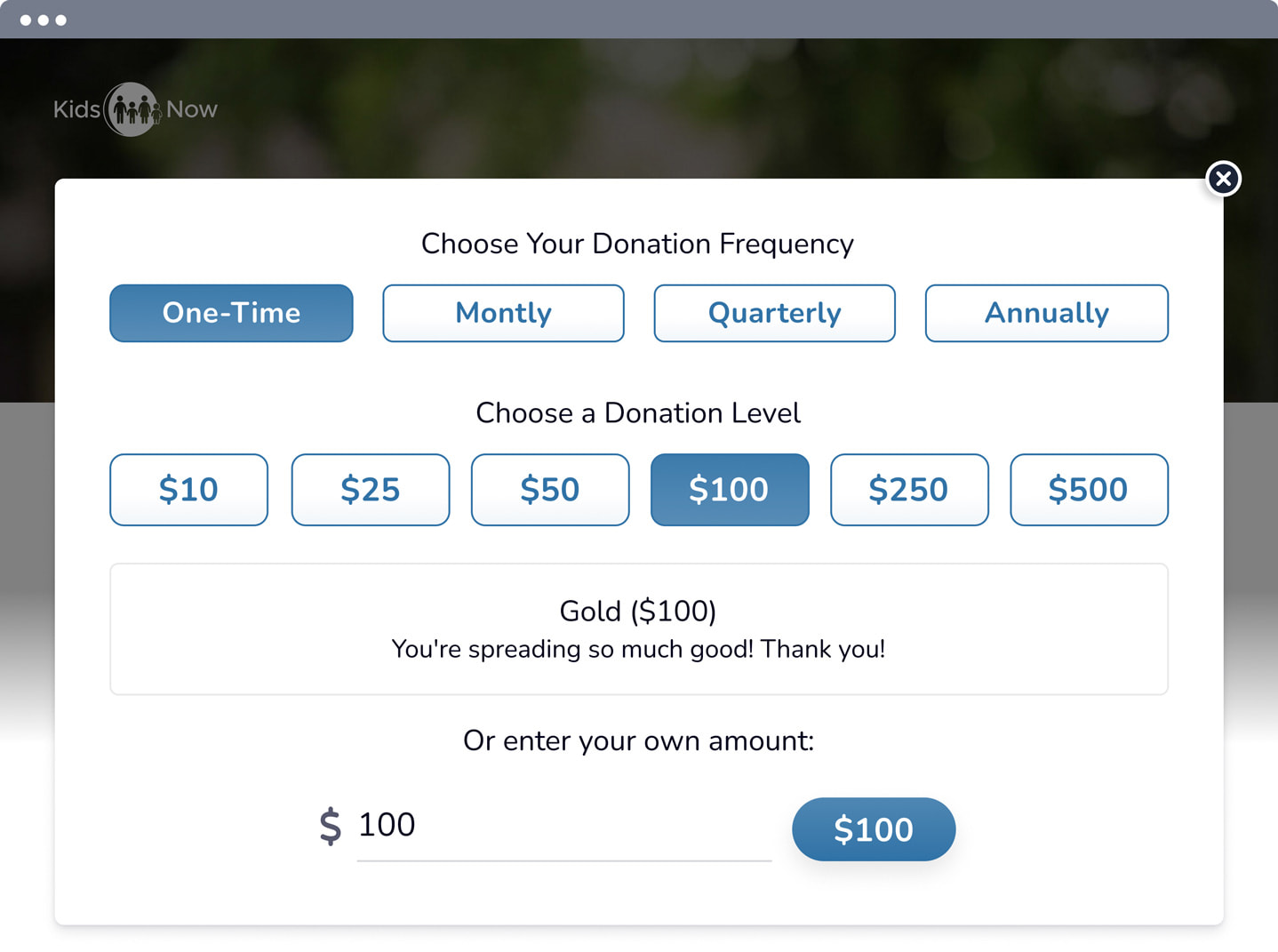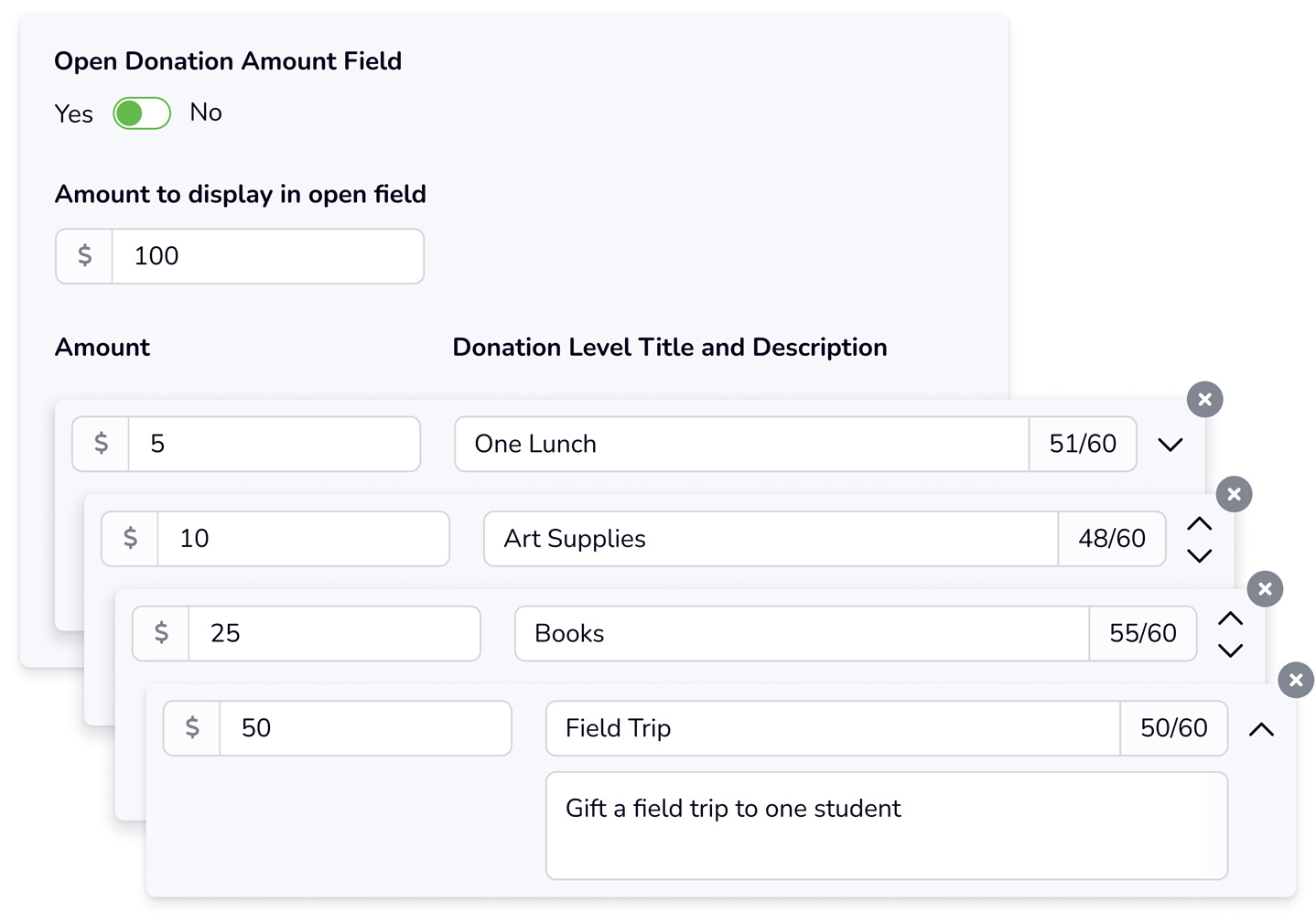 Custom and preset donation levels
Choose the giving presets that work best for your particular ask, and explain the impact created by each giving level. You can allow donors to enter their own amount, or only offer the preset levels to choose from.
Recurring donations and sustainable giving
Easily set up sustaining giving campaigns and manage your subscribers from your recurring payments dashboard. Our system automatically follows up with failed payments, and allows donors to update their own contribution settings.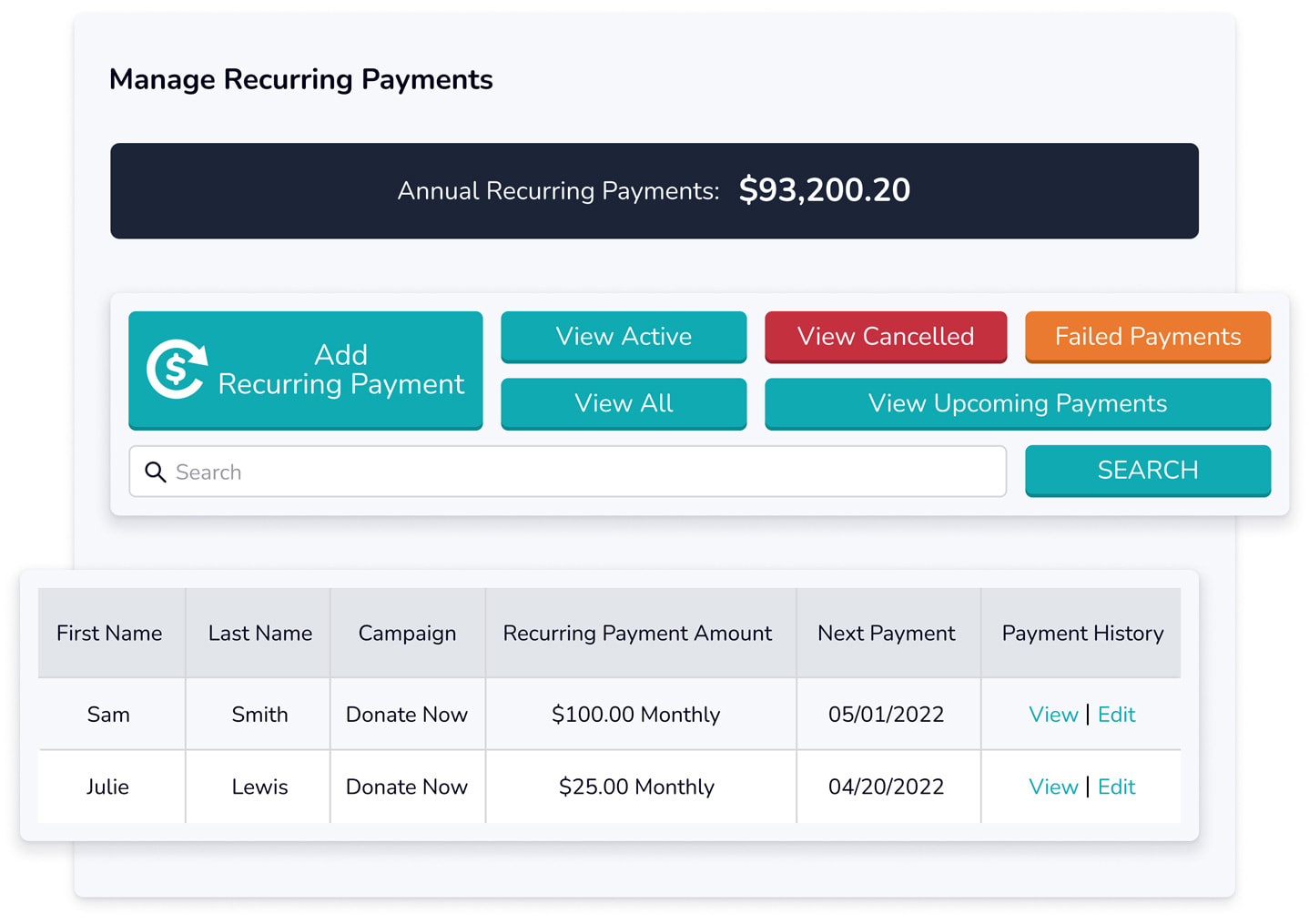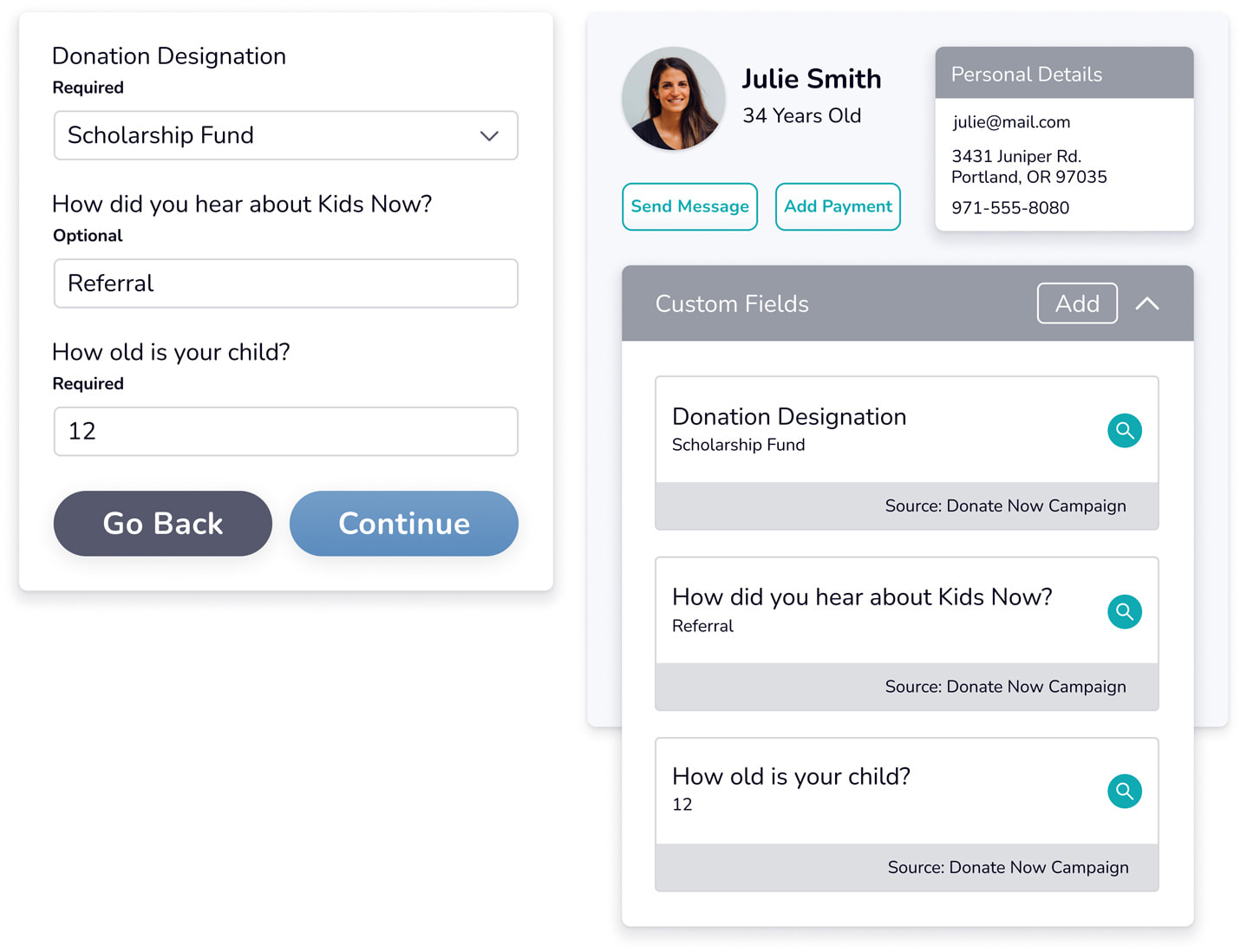 Get the data you need
Set up custom questions to facilitate your donor data and ongiong engagement. All responses are saved and able to be reported on within your fundraiser report, as well as mapped and available to view from their profile in your Flipcause Activity Tracker, along with all other questions they've ever responded to!
Tribute donations
Give your supporters the ability to designate their donations in honor or in memory of another. Flipcause will automatically generate an e-card to be delivered to both the donor and the designated.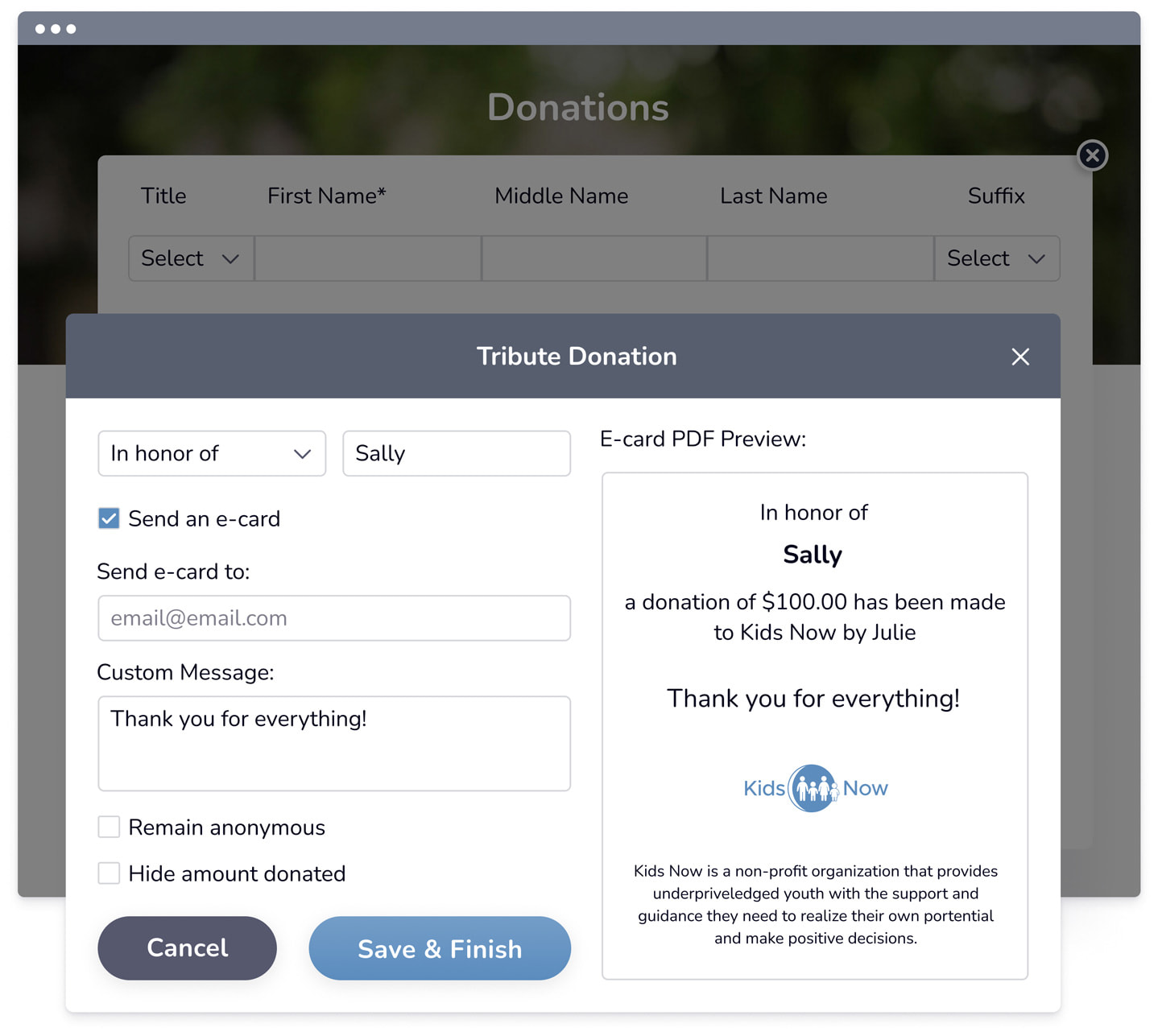 Custom and refined tax-deductibility
Configure fair market value and percentage-based tax-deductibility per payment or donation option, so your reporting and donors' year-end tax receipts will include the correct tax-deductibility information automatically.
Automated receipts and thank-yous
The importance of thanking your donors in a timely manner can't be emphasized enough. On Flipcause, your custom thank-you message is delivered instantly with tax deduction information and the required disclaimer.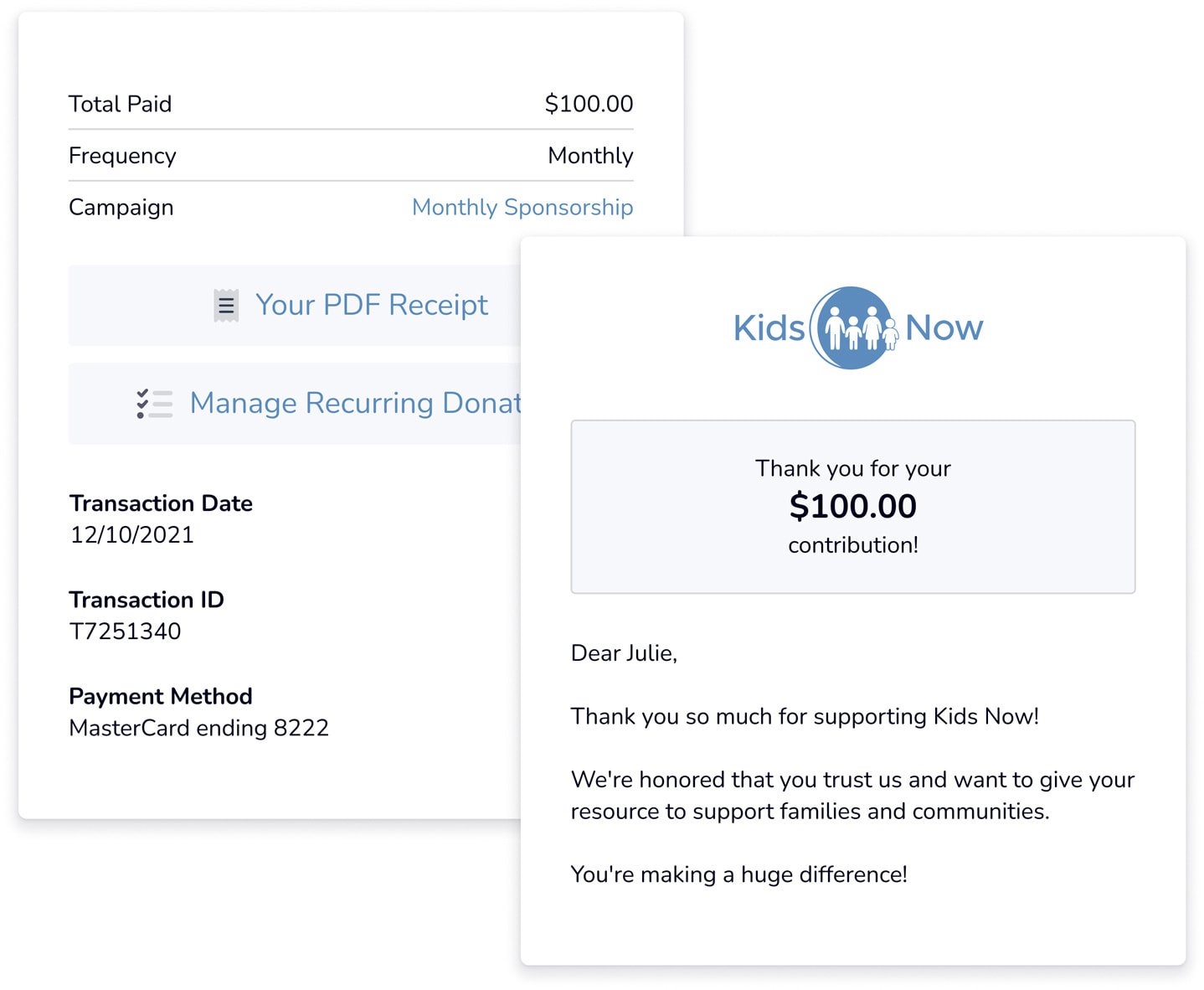 Want to take donations on Flipcause?
Add-on merchandise or volunteer shifts
Taking tuition payments and want to add options for yearbooks or branded merchandise, or offer volunteer shifts?
You can allow any
combinations of engagements
to occur in a single transaction by turning on
the cart feature
.
Industry-low processing cost
By offering your supporters the option to cover the fee, you can expect an average transaction rate of 1%, and have the peace of mind that you'll never go above 1.5%. Plus, your funds are available to you immediately. Unlike many others, we don't make you wait for a payout.
Don't miss a thing
All donation and payment activity are logged to your Centralized Activity Tracker on Flipcause, where they are stored together with your other integrated tools and engagements using Flipcause, providing an at-a-glance holistic record of supporter history. Never miss an opportunity to tailor your outreach and engage better with your constituents now that you have all records in one place.
Sound like a lot? Let us build it for you
Technology should empower, not overpower. That's why in addition to easy-to-use customizable features, at Flipcause you also have a Success Team and Concierge Services to do it all for you. Anything you want to build on Flipcause, just delegate it to us.
DONATIONS & PAYMENTS Features
Replace your PayPal with Flipcause to save on processing costs
Industry-low processing cost
Custom & preset donation levels
Tribute donations & cards
Funds available immediately
Refined tax deductibility
Onsite donations with app
Integrate into your website
Add on registrations, volunteers, sponsorship with the cart feature
"We did not have any fundraising software before Flipcause. Since adopting Flipcause, we have been able to establish a monthly donor program and give our supporters the option to cover credit card fees, both of which have increased our overall fundraising. The user experience and the customer support have been wonderful and are the reasons why we continue to use Flipcause."
Julie H., Chair, Board of Directors
West Berlin, NJ
Customer since November 2019
"The ability to post appeals for donations and to collect money is so simple and easy that it has allowed us to raise more money in the last six months than in our first 3 years."
Chris M., President
Hillsboro, MO
Customer since October, 2017
"Flipcause allows us to monitor all of our donations on one easy-to-use platform. Being able to track various campaigns and donors is invaluable. By allowing us to accept donations on the platform, we are able to keep all of our donation information in one place."
Mickey S., Executive Director
Sarasota, FL
Customer since July, 2020