PEER-TO-PEER & TEAMRAISERS
Raise More
Your community is your greatest resource. A donation ask from a family member or friend is more likely to result in a donation than when asked by the organization. Empower your community to grow both your network and contributions.
Their fundraising page, your revenue
Individuals create their own personal fundraising asks and then shares it directly to their social networks. And your organization receives all raised funds.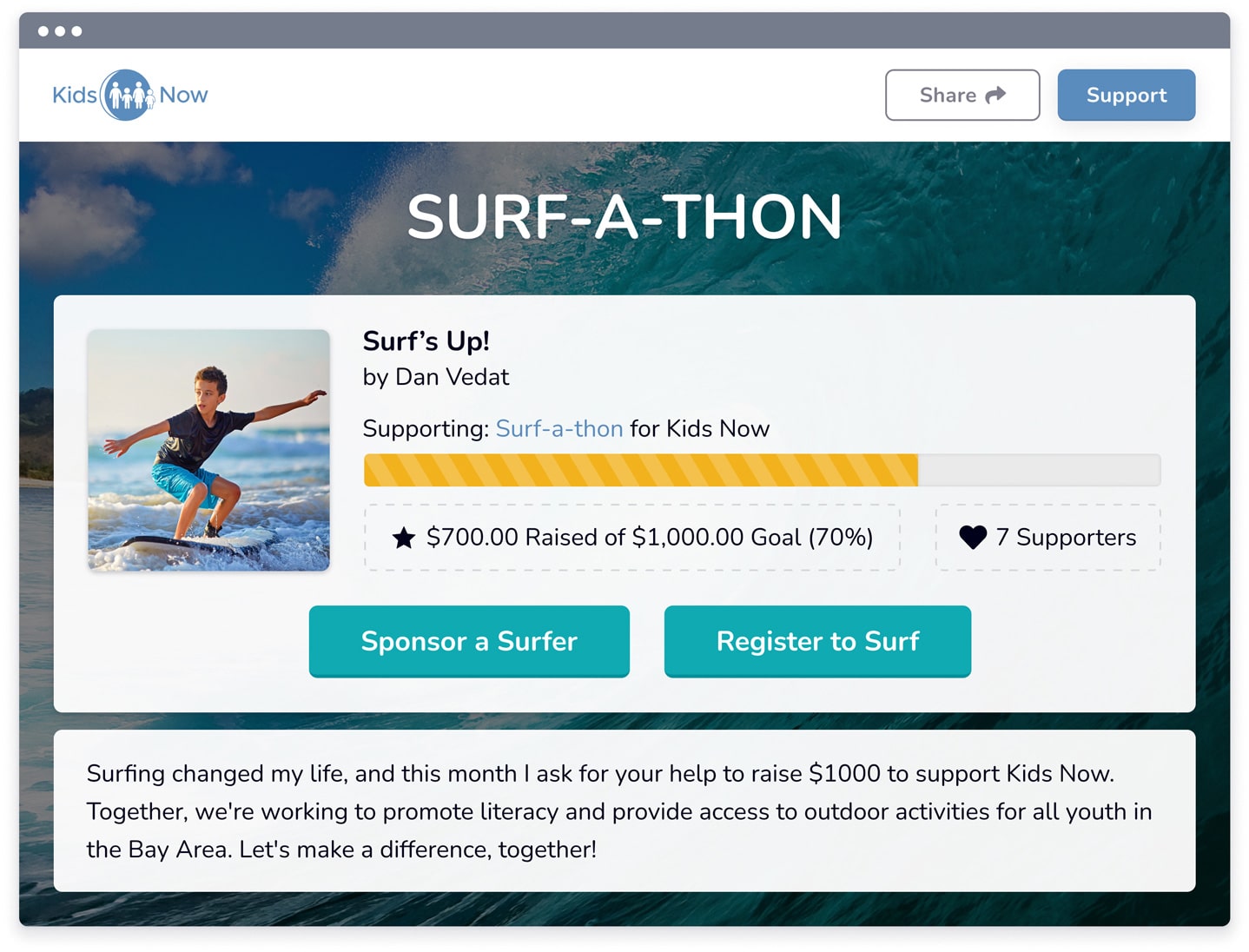 Friendly challenges = win-win
Tools that motivate your fundraisers, make it fun, and increase engagement and your fundraising outcomes.
Fundraising goals and progress meters
Set goals and visually display progress to propel activity individually and between participants.
Leaderboards
Activate the leaderboard to rank individuals and teams by amount raised. Leaderboards are searchable by name and encourage team members to chip in.
Team pages and team captains
Supporters can fundraise as an individual, join an existing team, or start their own and become a team captain.
Capture new donors for long-term growth
By virtue of their personal relationships, fundraising individuals reach a wider audience and introduce new supporters to your mission. This not only increases your short-term fundraising success, but captures new donor information for ongoing engagement.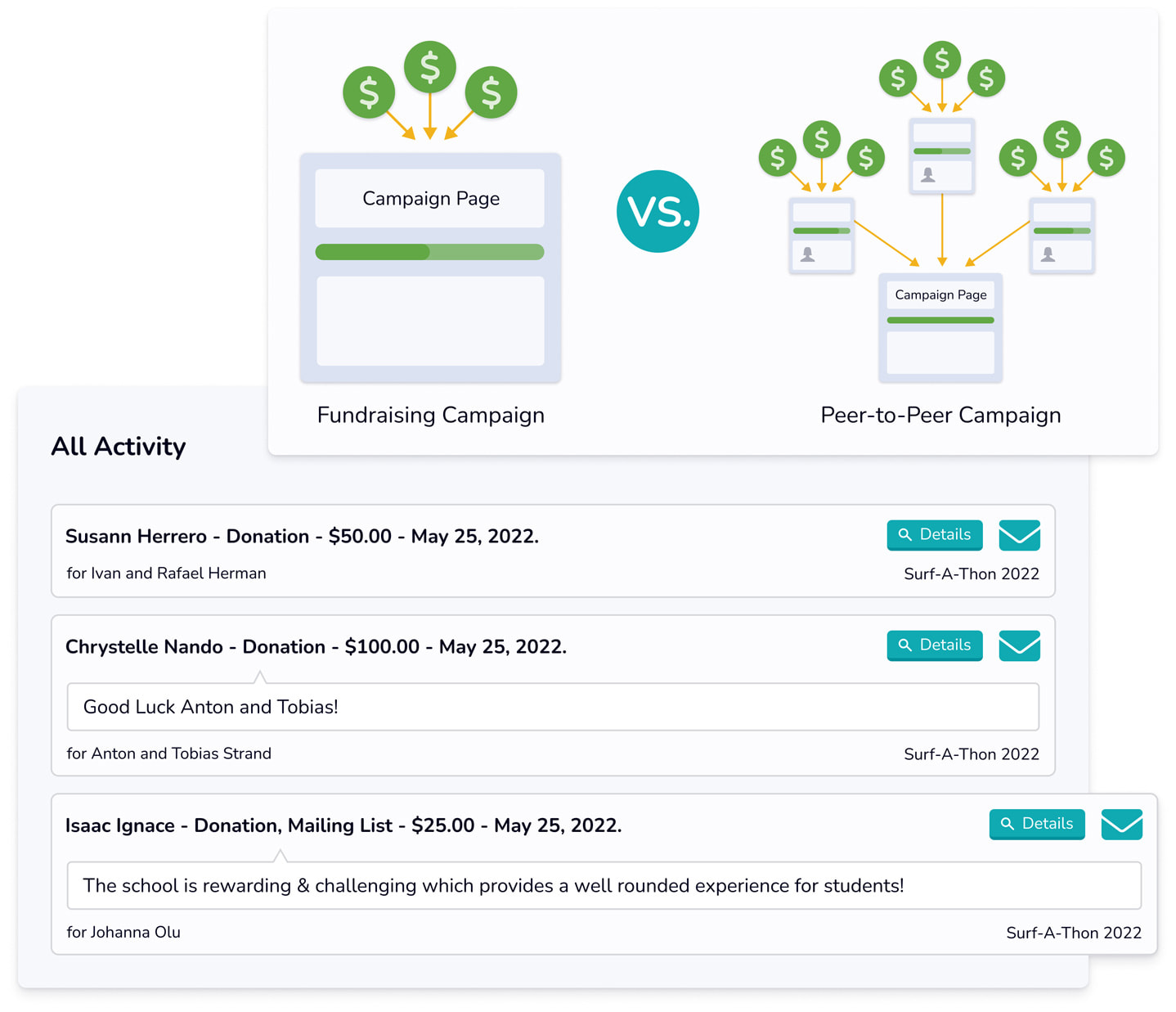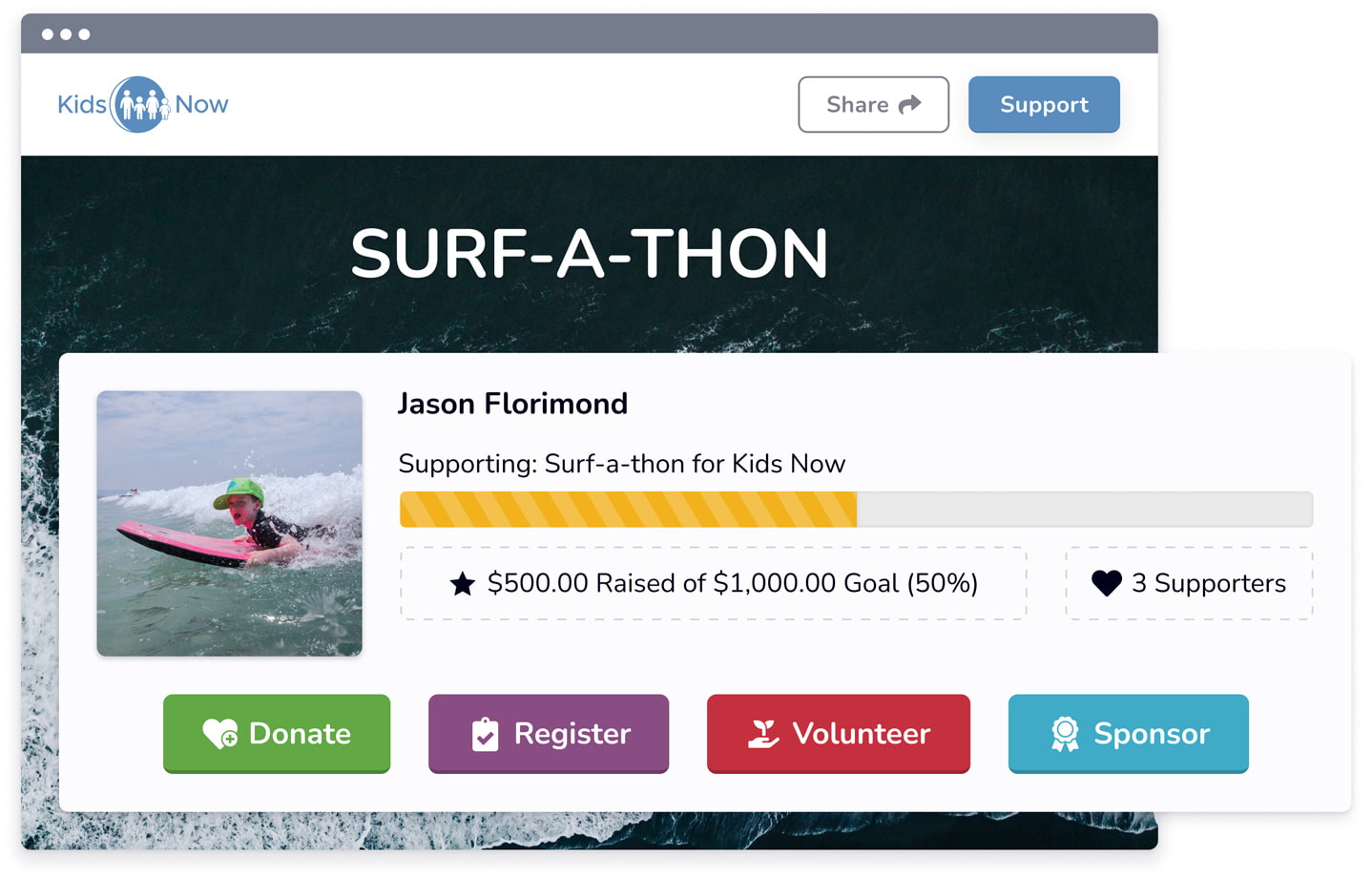 The most flexibility
With unlimited pages and the full suite of tools on Flipcause, you can add peer-to-peer to anything to get extremely creative with your fundraising campaign: peer-to-peer donations, ticket sales, volunteer recruitment, item sales, sponsorship drives.
Applications, just to name a few
Birthday fundraisers
Instead of birthday gifts, a person asks their friends donate to your cause on their behalf.
Board member sponsorship
Board members create personalized asks and fundraising pages on behalf of your organization to aid their sponsorship conversations.
Recurring donor drives
See who can sign up the most recurring donations.
Runs, Walks, and Races
Participants are sponsored by friends and family to participate in an event to create a sense of unity around a cause.
School class fundraisers
Create teams of classes with teachers as captains for friendly competition for prizes for selling the most subscriptions or getting the most donations.
Want to launch peer-to-peer on Flipcause?
Add-on donations, purchases, anything
Industry-low processing cost
By offering your supporters the option to cover the fee, you can expect an average transaction rate of 1%, and have the peace of mind that you'll never go above 1.5%. Plus, your funds are available to you immediately. Unlike many others, we don't make you wait for a payout.
Don't miss a thing
All ticket sales and registration activity are logged to your
Centralized Activity Tracker
on Flipcause, where they are stored together with
your other integrated tools and engagements
using Flipcause, providing an at-a-glance holistic record of supporter history. Never miss an opportunity to tailor your outreach and engage better with your constituents now that you have all records in one place.
Sound like a lot? Let us build it for you
Technology should empower, not overpower. That's why in addition to easy-to-use customizable features, at Flipcause you also have a Success Team and Concierge Services to do it all for you. Anything you want to build on Flipcause, just delegate it to us.
Peer-To-Peer Features
Unlock the power of community
Personalized campaign pages
Fundraising goals & leaderboards
Log offline contributions
Funds directly to your account
Unlimited fundraisers and campaigns
Content control and admin approval
Peer-to-peer donations, ticket sales, volunteer recruitment, item sales, sponsorship drives
Peer-to-peer donations, ticket sales, volunteer recruitment, item sales, sponsorship drives
"We are able to use Flipcause for all of our financial backend needs. Campaigns can be tailored to use peer to peer fundraising, event ticket sales, merchandise sales and volunteer management. The platform is also donor friendly and gives the donor the option to cover all fees so that more funds come to us. They will also design individual campaigns for us - this is HUGE for a small staff of two."
Debbie J., Assistant Director
Florence, SC
Customer since: January, 2017