SPONSORSHIP & REWARDS
Online Sponsorship Package Sales for Small Nonprofits
Offer sponsorship packages online as part of your fundraising events, or as a standalone fundraising avenue.
Seamless sponsorships on your website
Embed your sponsorship options directly on your website for a native experience that makes it easy to support your organization.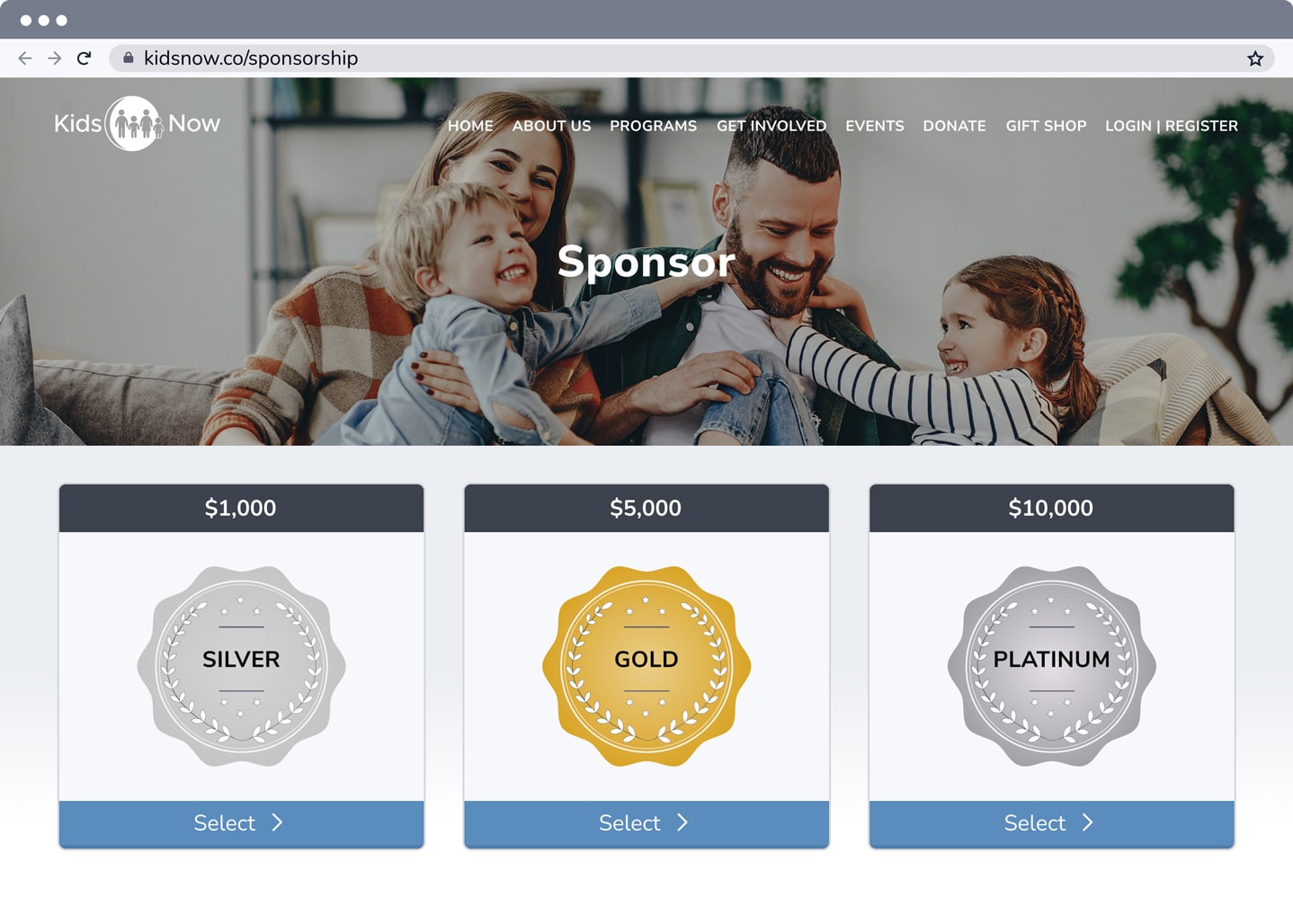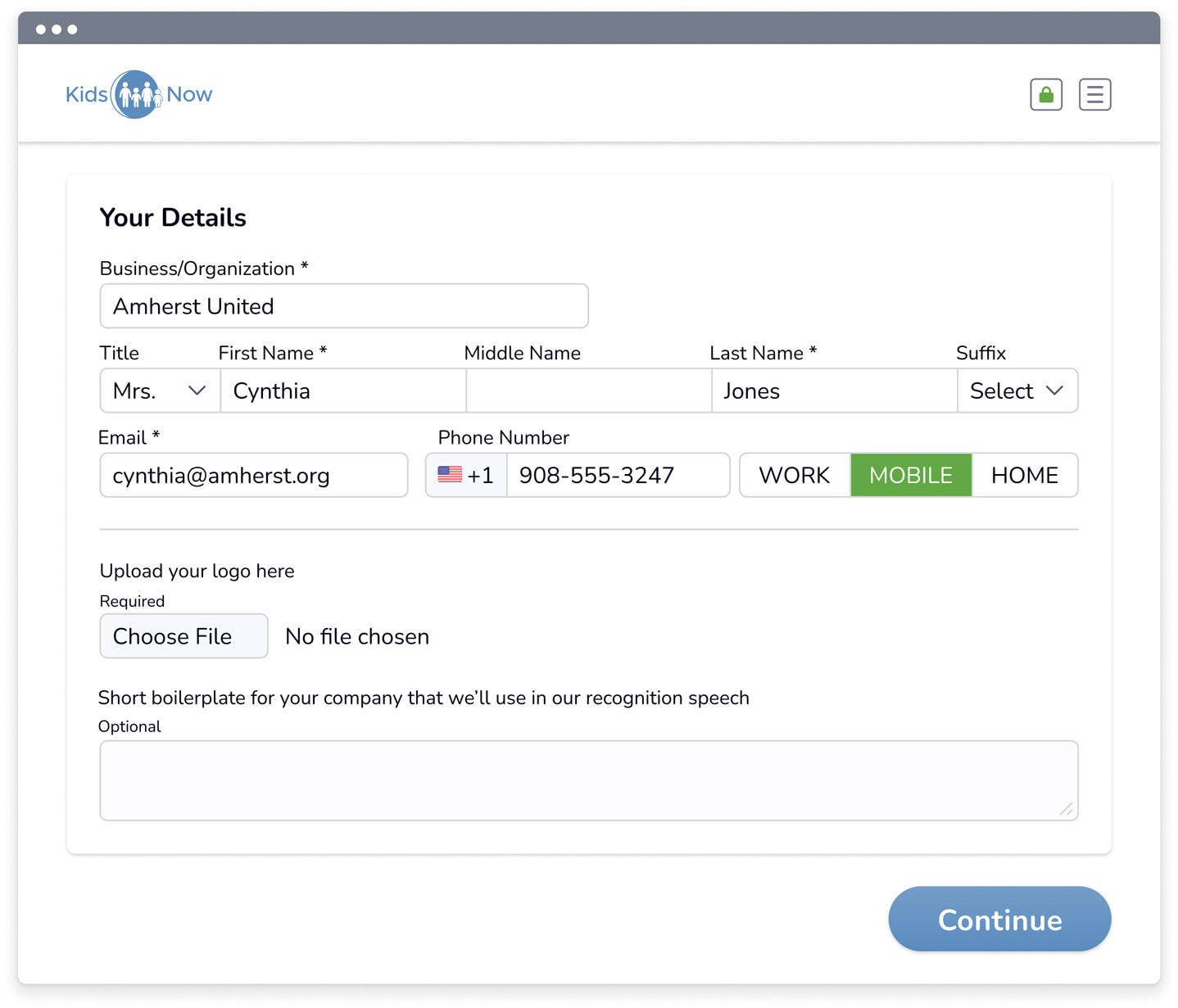 Custom sponsorship intake
Use custom fields to get all the info you need per sponsor, such as logo or blurb. Every detail is stored in the sponsor's contact record, and exportable in sponsorship reporting.
Unlimited package variations
Create as many levels and options within each level as you need, such as colors or ad layouts, to make it easy for sponsors to choose their preference. Configurations are reflected in your reporting, which makes it easier for your record-keeping, too!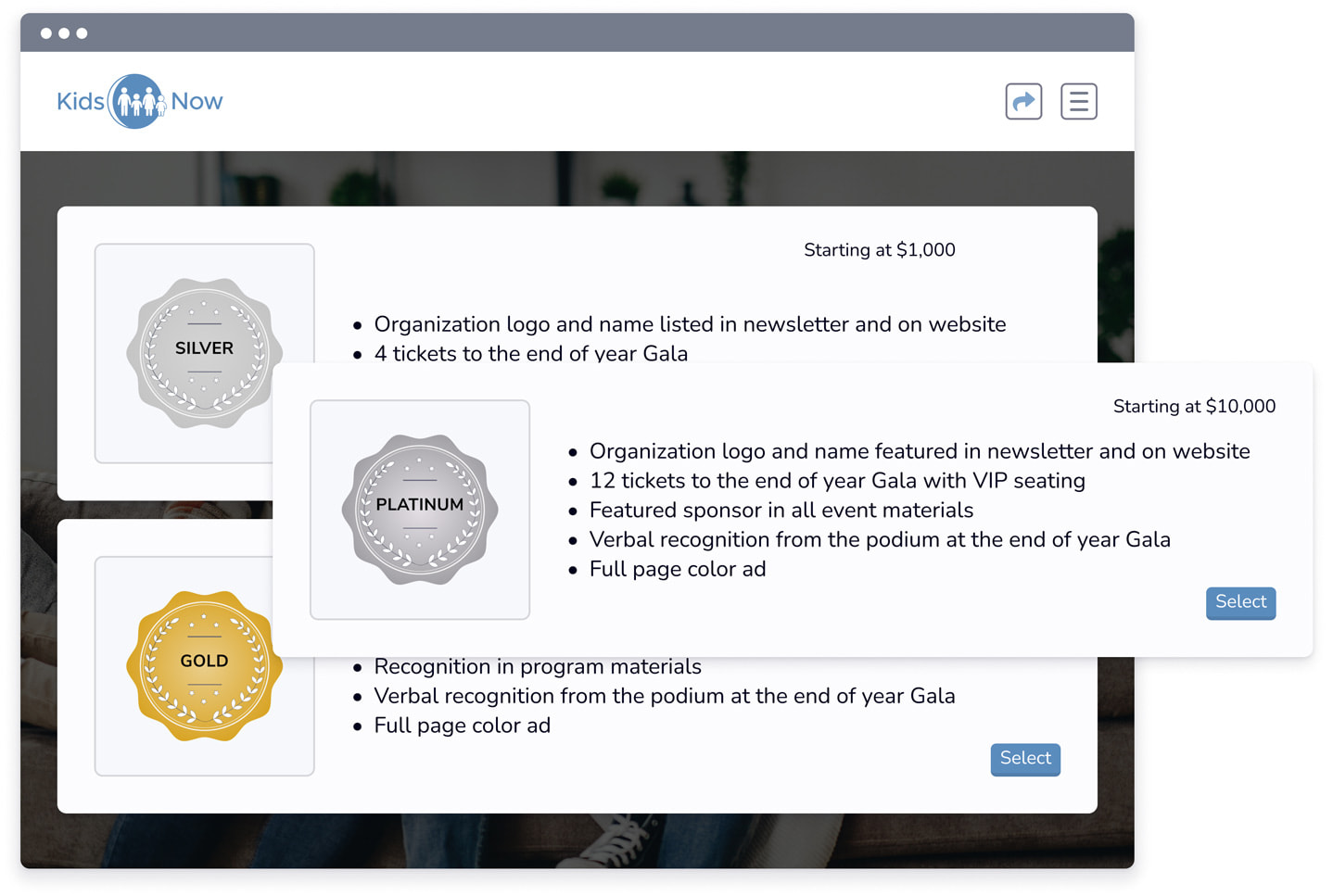 Inventory tracking
Avoid overselling by setting limited availability for each level, and available inventory displays in real-time.
Custom and refined tax-deductibility
Set a fair market value or percentage and all receipts and year-end statements accurately reflect the portion of contributions which are tax-deductible.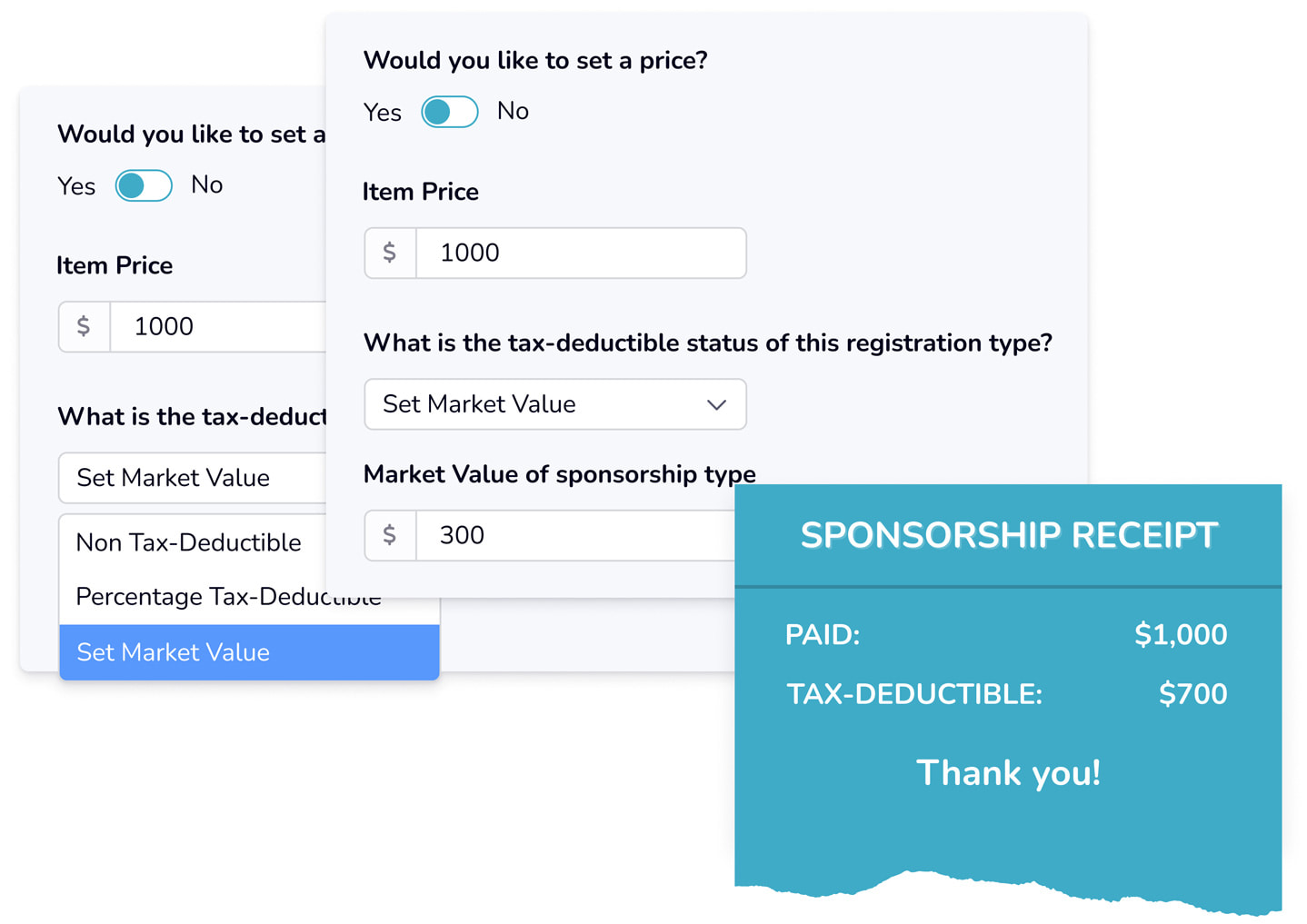 Discount codes, sales tax, and shipping options
Include sales tax and custom shipping per package, or for the entire order, and receipts and reports will accurately reflect these costs for bookkeeping ease.
Receive cash or check
Large donors need not pay hundreds in fees. Accept check or cash, log it toward your sponsorship options, and it reflects seamlessly everywhere: sponsorship availability, the sponsor's record, and sponsorship reporting!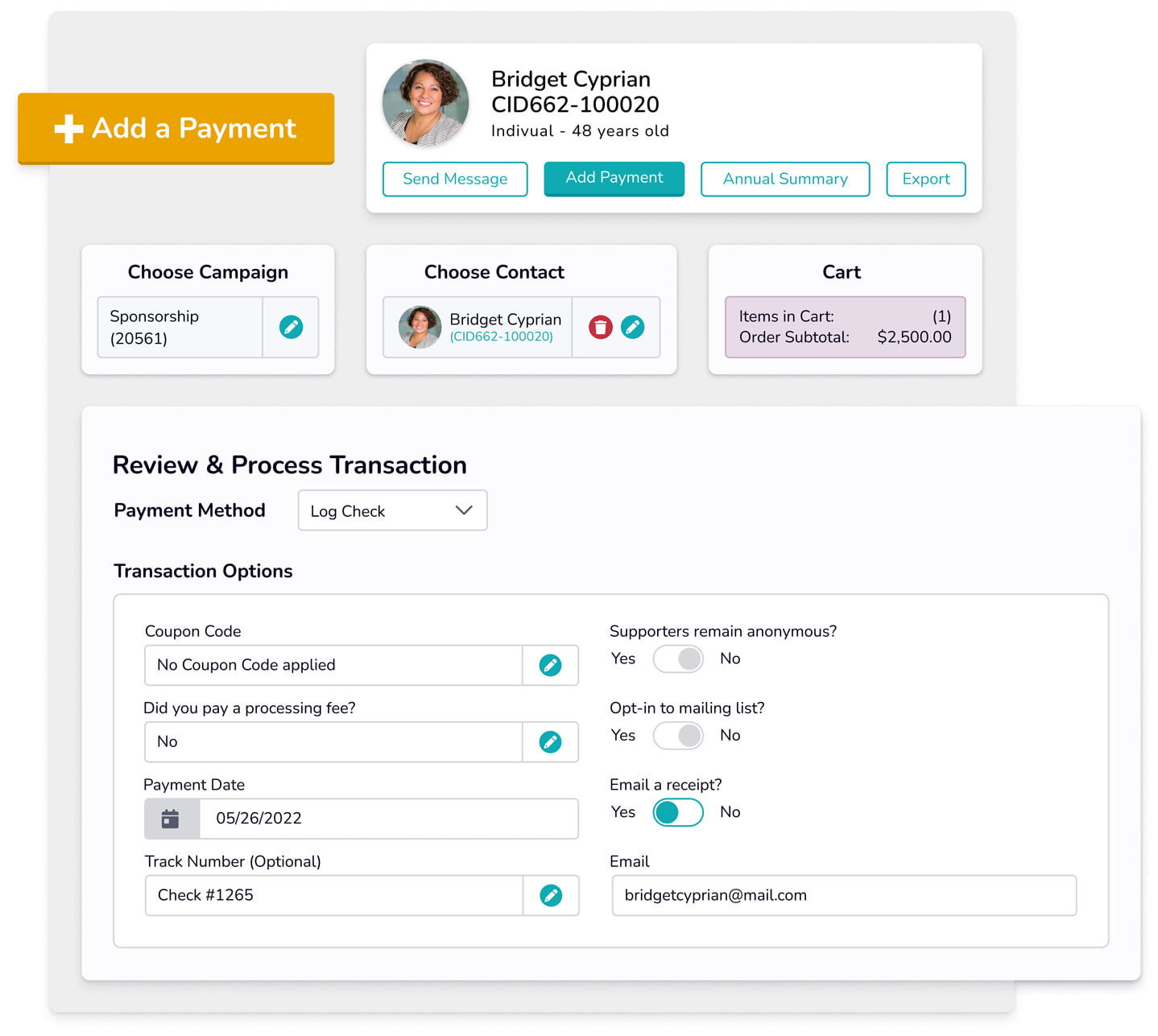 Want to offer sponsorship on Flipcause?
Add on donations or registrations
Industry-low processing cost
By offering your supporters the option to cover the fee, you can expect an average transaction rate of 1%, and have the peace of mind that you'll never go above 1.5%. Plus, your funds are available to you immediately. Unlike many others, we don't make you wait for a payout.
Don't miss a thing
All sponsorships are logged to your Centralized Activity Tracker on Flipcause, where they are stored along with all other engagements using Flipcause, providing an at-a-glance holistic record of supporter history. Never miss an opportunity to tailor your outreach and engage better with your constituents now that you have all records in one place.
Sound like a lot? Let us build it for you
Technology should empower, not overpower. That's why in addition to easy-to-use customizable features, at Flipcause you also have a Success Team and Concierge Services to do it all for you. Anything you want to build on Flipcause, just delegate it to us.
SPONSORSHIP & REWARDS Features
Facilitate sponsorship with Flipcause
Limit quantities & levels
Refined tax deductibility
Accept check and cash payments
Industry-low processing cost
Funds available immediately
Optional tax, discounts, shipping
Integrate into your website
Add-on donations, items, and tickets
"I'm using Flipcause with two nonprofits I manage...and love it. So handy to have event registration, sponsorship, volunteers, payment processing AND a friendly website all in one place. The team is always willing to help me customize a campaign for an odd-ball task like exhibit space reservation."
Karen F., Executive Director
Ventura, CA
Customer since May, 2018