EVENTS & REGISTRATION
Online Event Ticketing and Registration Software for Small Nonprofits
Nonprofits have unique needs when it comes to events that other solutions aren't built for. Whether a simple event or a large gala, our highly customizable system lets you set up any registration form with ease.
Sell event tickets right on your website
No more external ticket pages. On Flipcause, you can set up your event details and embed the purchase options or registration form directly on your website, with custom pricing, dates, and availability options. Every registrant is emailed an automated receipt.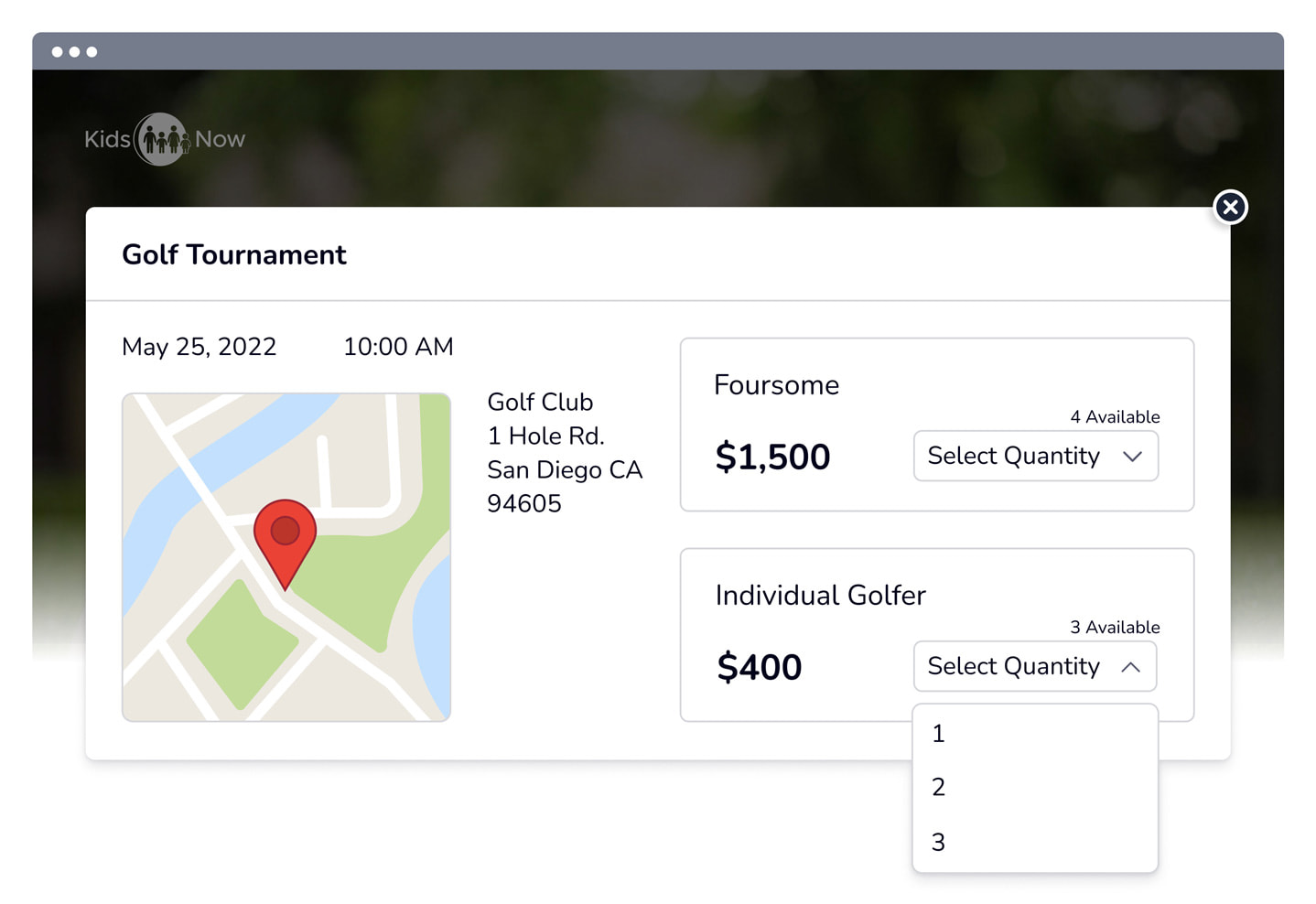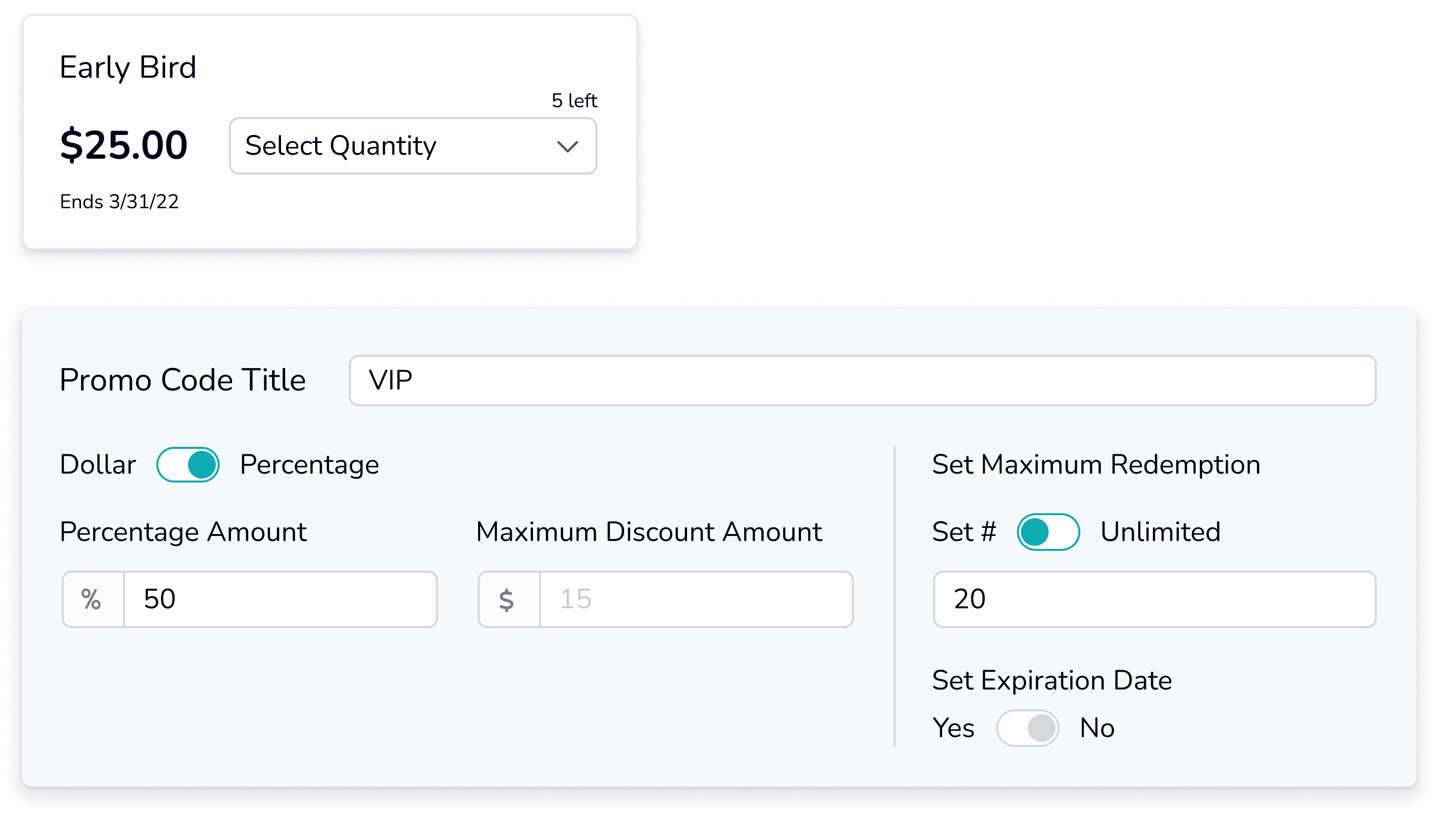 Price tiers and scheduled buying windows
Registrations can be paid or free, and anywhere in between.
Registration Window Scheduling
With registration window scheduling, you can set up early bird pricing and staged ticket tier releases.
Coupon Codes
With coupon codes, you can offer special discounts to members, sponsors, volunteers, or any other VIP.
Ticket Quantity Options
With ticket quantity options per ticket group, you can set up bulk discounts or sell a whole table while collecting the names of each individual at that table.
Custom and refined tax-deductibility
Configure fair market value and percentage-based tax-deductibility per ticket type, so your ticket reporting and donors' year-end tax receipts will include the correct tax-deductibility information for each purchase, automatically.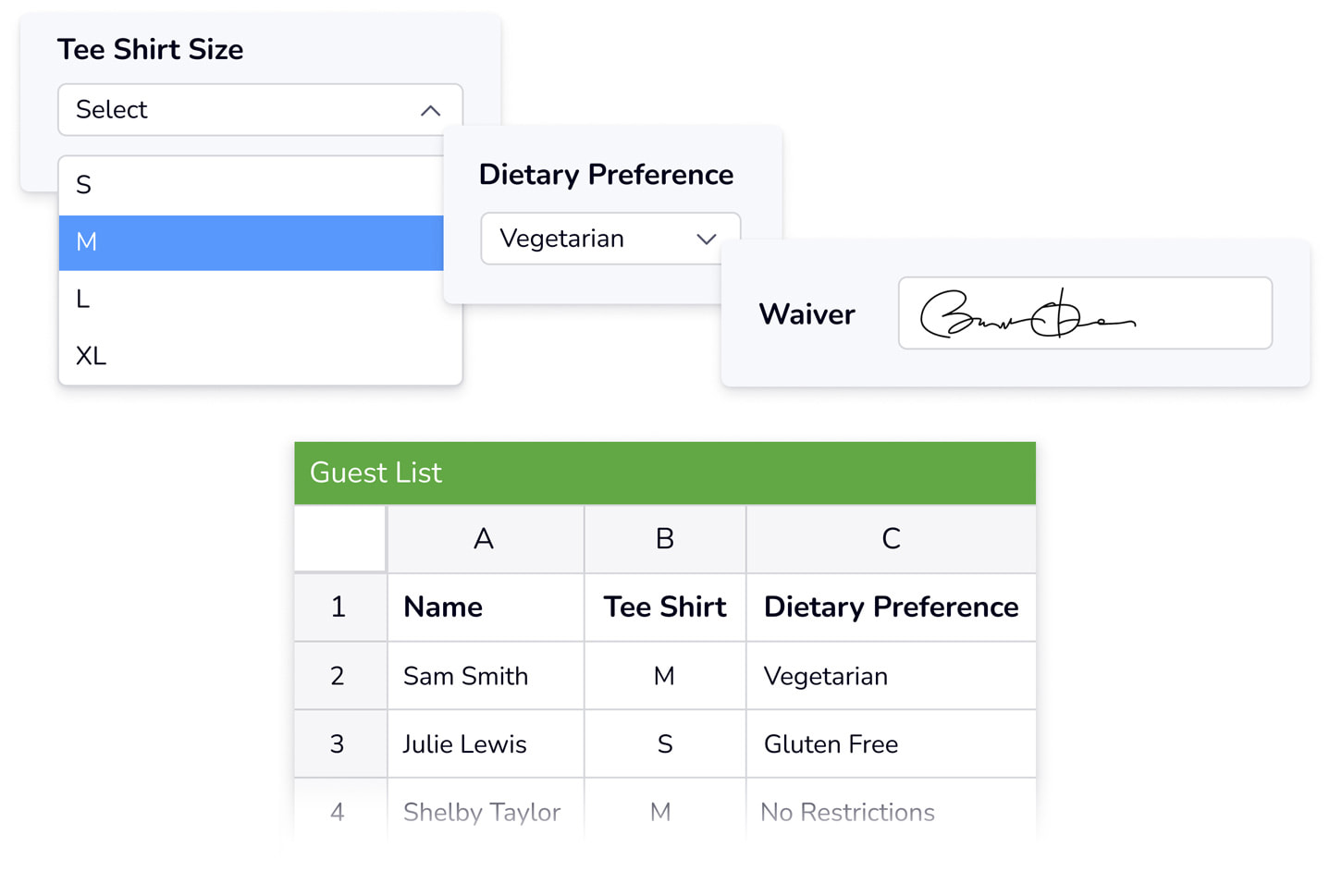 Granular guest lists and reporting
Custom Fields
Dietary preferences, tee-shirt sizes, preferred method of contact, or anything else you need to know (even a file upload) – ask any question and as many as you need during registration. All responses are saved and able to be reported on within your event, as well as mapped and available to view from their profile in your Flipcause Activity Tracker, along with all other questions they've ever responded to!
Waivers
Liability release, media release, or any waiver you need can be added and signed right during registration.
Event Check-In
Download guest lists for your event, use the Flipcause dashboard (or Flipcause LIVE mobile app) to check attendees in on your device, and have your reports reflect who attended and who canceled their registrations after the fact.
Want to set up your events on Flipcause?
Add-on donations, purchases, anything
Sell merch, offer add-on donations, show volunteer shifts, or even event sponsorships during your event registration process. You can allow any
combinations of engagements
to occur in a single transaction by turning on
the cart feature
.
Industry-low processing cost
By offering your supporters the option to cover the fee, you can expect an average transaction rate of 1%, and have the peace of mind that you'll never go above 1.5%. Plus, your funds are available to you immediately. Unlike many others, we don't make you wait for a payout.
Don't miss a thing
All ticket sales and registration activity are logged to your
Centralized Activity Tracker
on Flipcause, where they are stored together with
your other integrated tools and engagements
using Flipcause, providing an at-a-glance holistic record of supporter history. Never miss an opportunity to tailor your outreach and engage better with your constituents now that you have all records in one place.
Sound like a lot? Let us build it for you
Technology should empower, not overpower. That's why in addition to easy-to-use customizable features, at Flipcause you also have a Success Team and Concierge Services to do it all for you. Anything you want to build on Flipcause, just delegate it to us.
EVENTS & REGISTRATION Features
Replace your Eventbrite with Flipcause to save on processing costs
Industry-low processing cost
Funds available immediately
Refined tax deductibility
Integrate into your website
Free registration and paid ticket tiers
Onsite donations with app
Early bird registration and scheduled buying windows
Add on donations, volunteers, sponsorship with the cart feature
"Flipcause appealed to our small nonprofit because of the number of features available for its very reasonable price. We had been using multiple services to get the features Flipcause offered all-inclusive, so making the switch alone saved us time and money. We have moved our event registration over to Flipcause and we are not paying nearly the same percentage of fees we paid with Eventbrite or PayPal!"
Courtney B, Executive Director
Boiling Springs, PA
Customer since March, 2021