CROWDFUNDING
Fundraising Campaigns for Nonprofits
Have a capital campaign or emergency need? Most crowdfunding sites were never designed for nonprofits. Launch your custom-branded campaign in minutes, get robust data, and save heaps of money on processing fees.
Custom and branded landing page
Have your fundraising page look how you want it to. With custom header logos, colors, fonts, and even domains, your crowdfunding campaign will work seamlessly with your brand.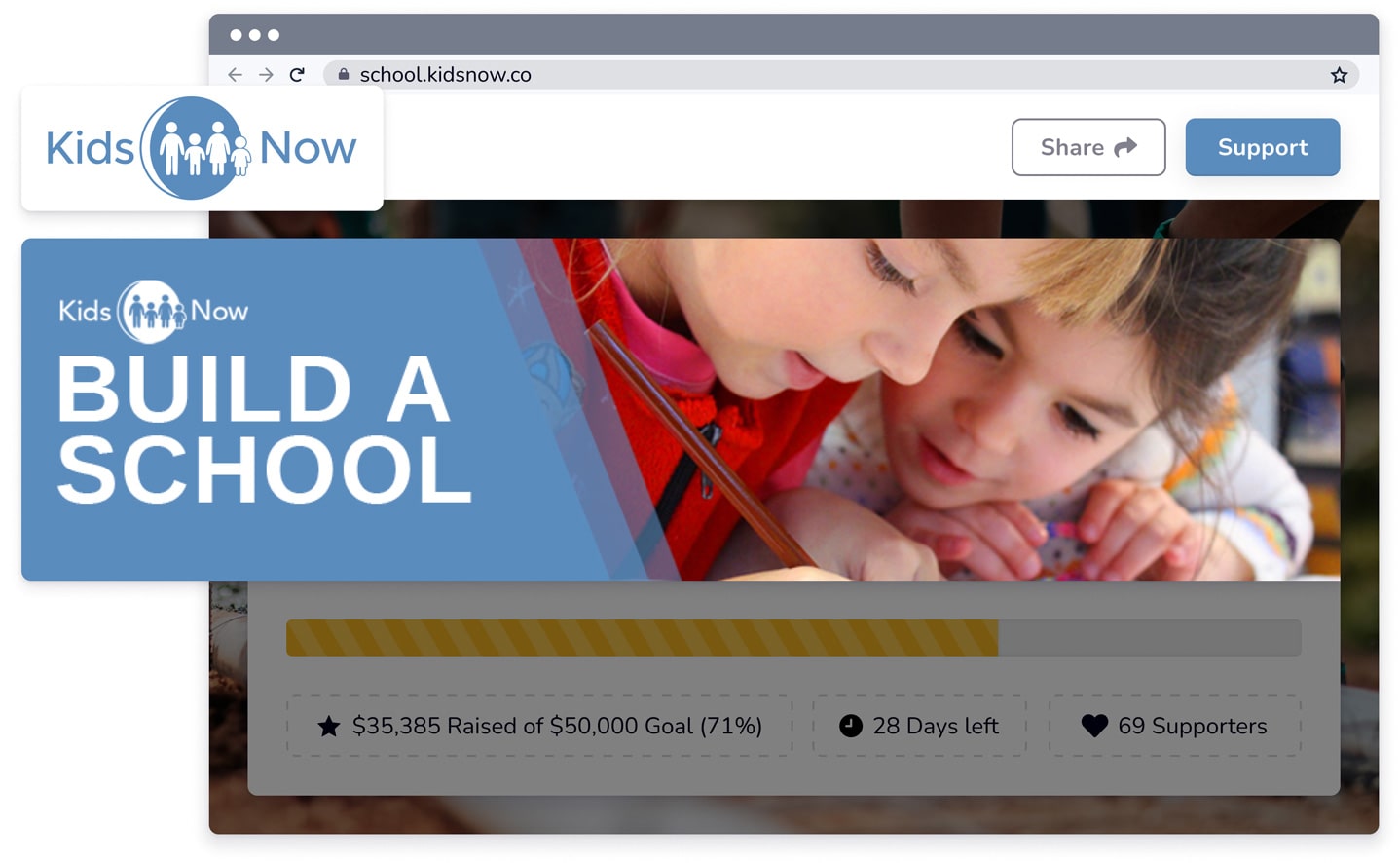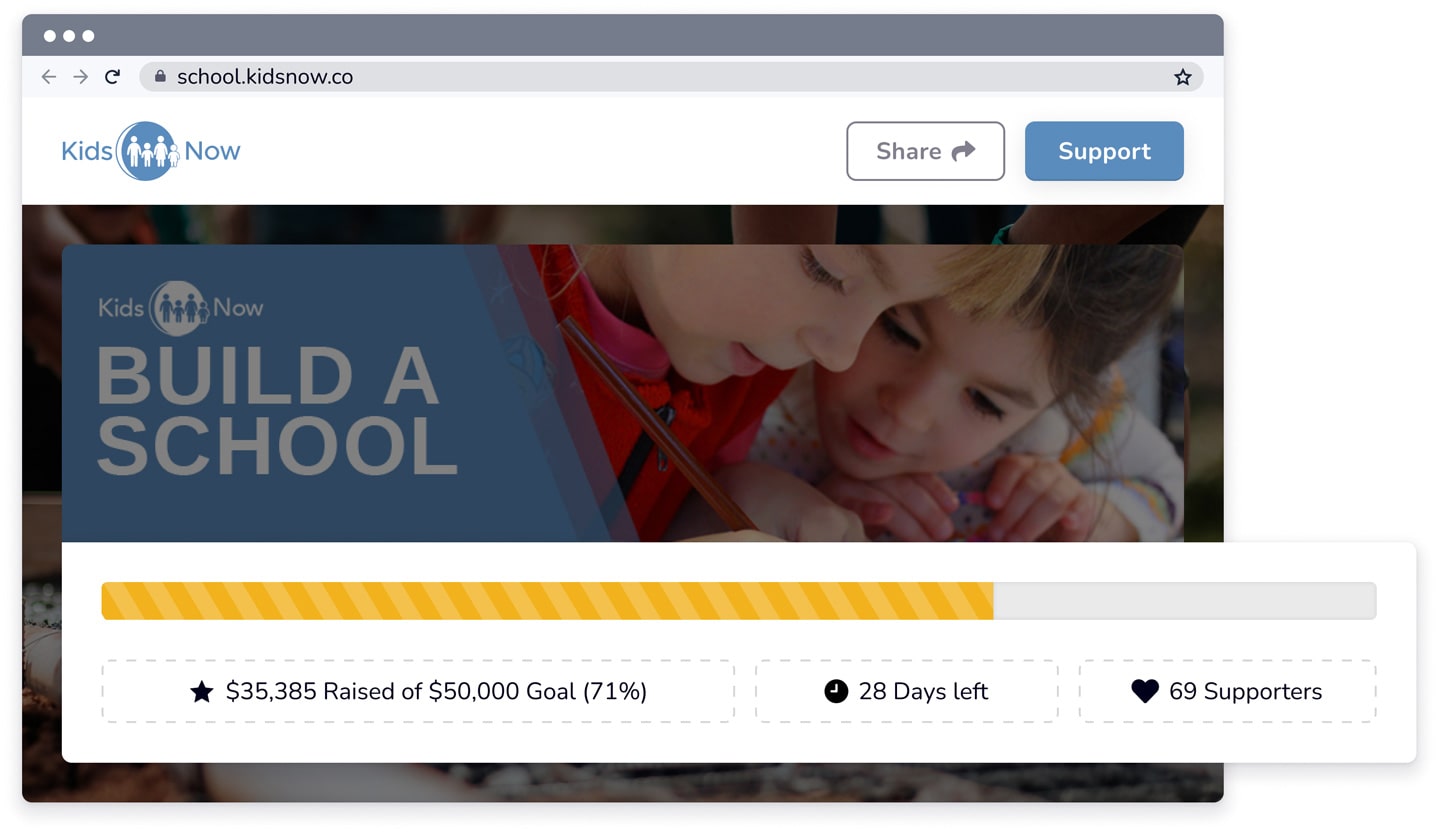 Visual goals for motivation
Let supporters feel part of the movement by adding a goal and a progress meter. Add a deadline and countdown to drive urgency toward your goal.
Tell your story, make your ask
Combine embedded videos and images with formatted text to present your story and ask just how you need it to.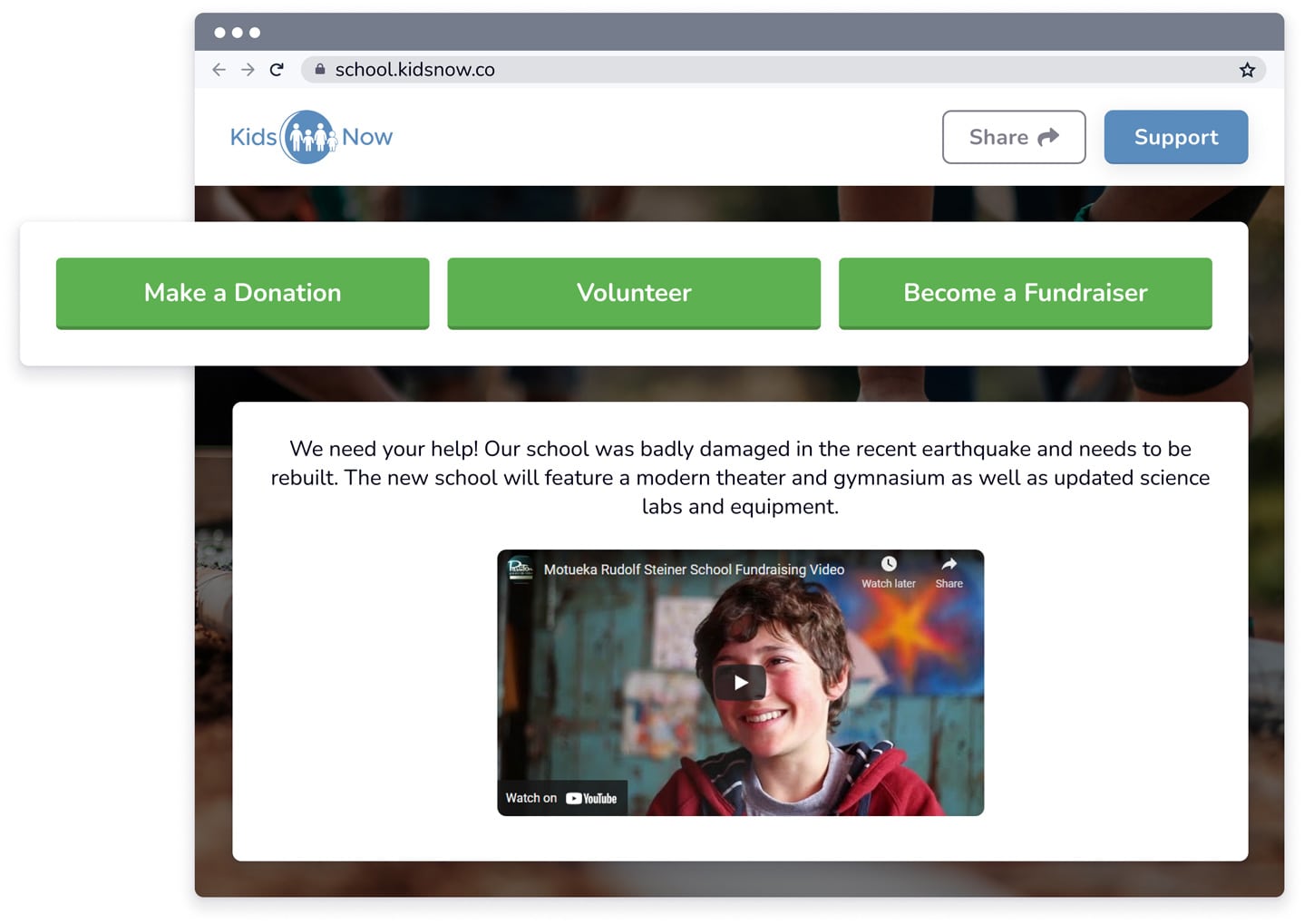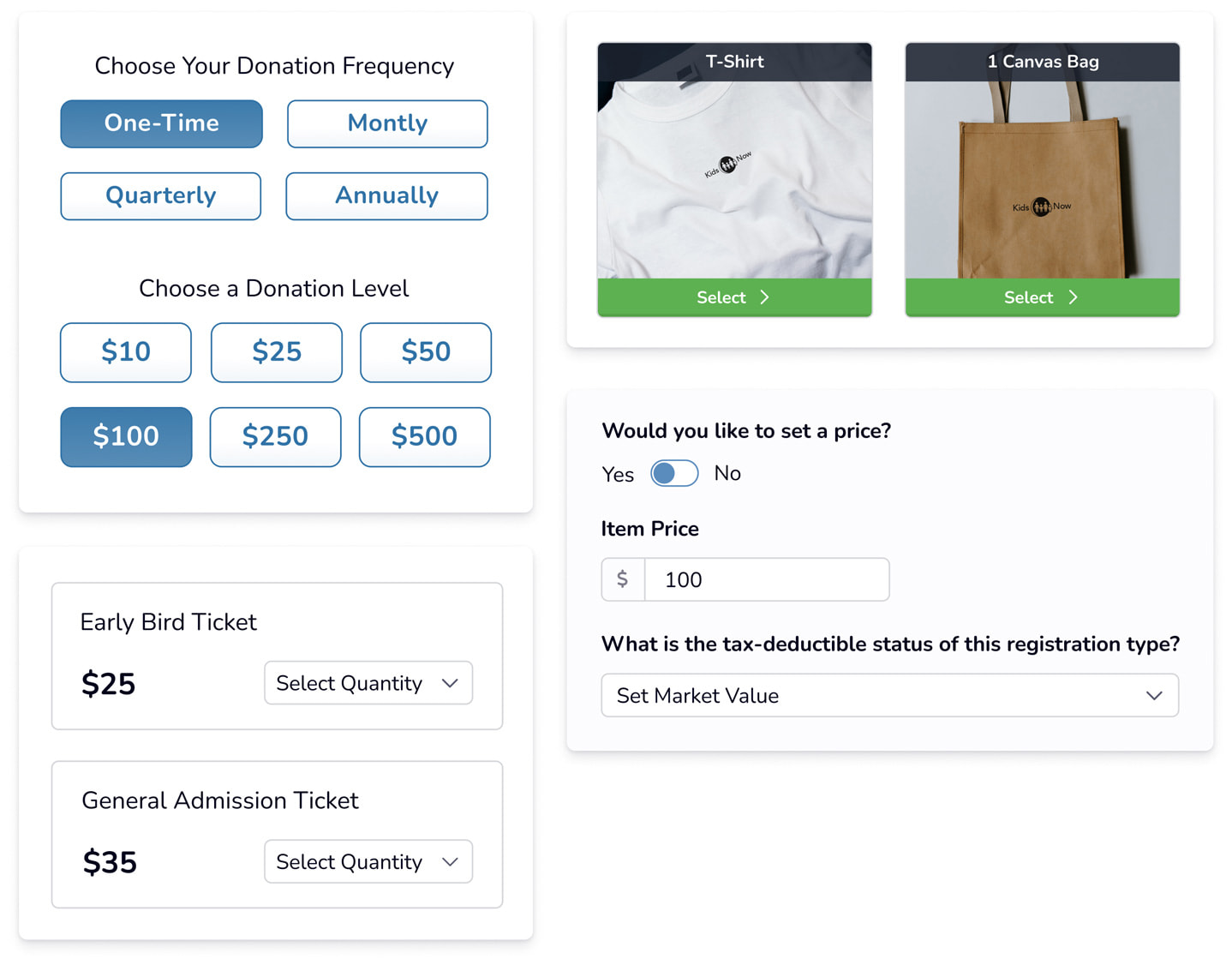 Custom giving levels and rewards
Preset giving levels
Whether you want to offer one donation option or many, you can configure the giving levels offered, add a description, and put them in the order you wish to display.
Offer rewards
Create a classic crowdfunding campaign by offering different reward types, such as mugs or tee shirts, with certain giving packages. Add shipping and sales tax if you need to!
Include any engagement
Sell merchandise, event tickets, and anything else as part of your fundraiser, such as text-to-give. You can add any fundraising tool on Flipcause to your campaign.
Refined tax-deductibility
Configure fair market value and percentage-based tax-deductibility, so your reporting and donors' receipts reflect correct tax-deductibility information automatically.
Shareable engagement
Built-in social sharing tools, customizable activity feed, and comments section help promote your fundraising page across your network to bolster engagement and drive collective enthusiasm.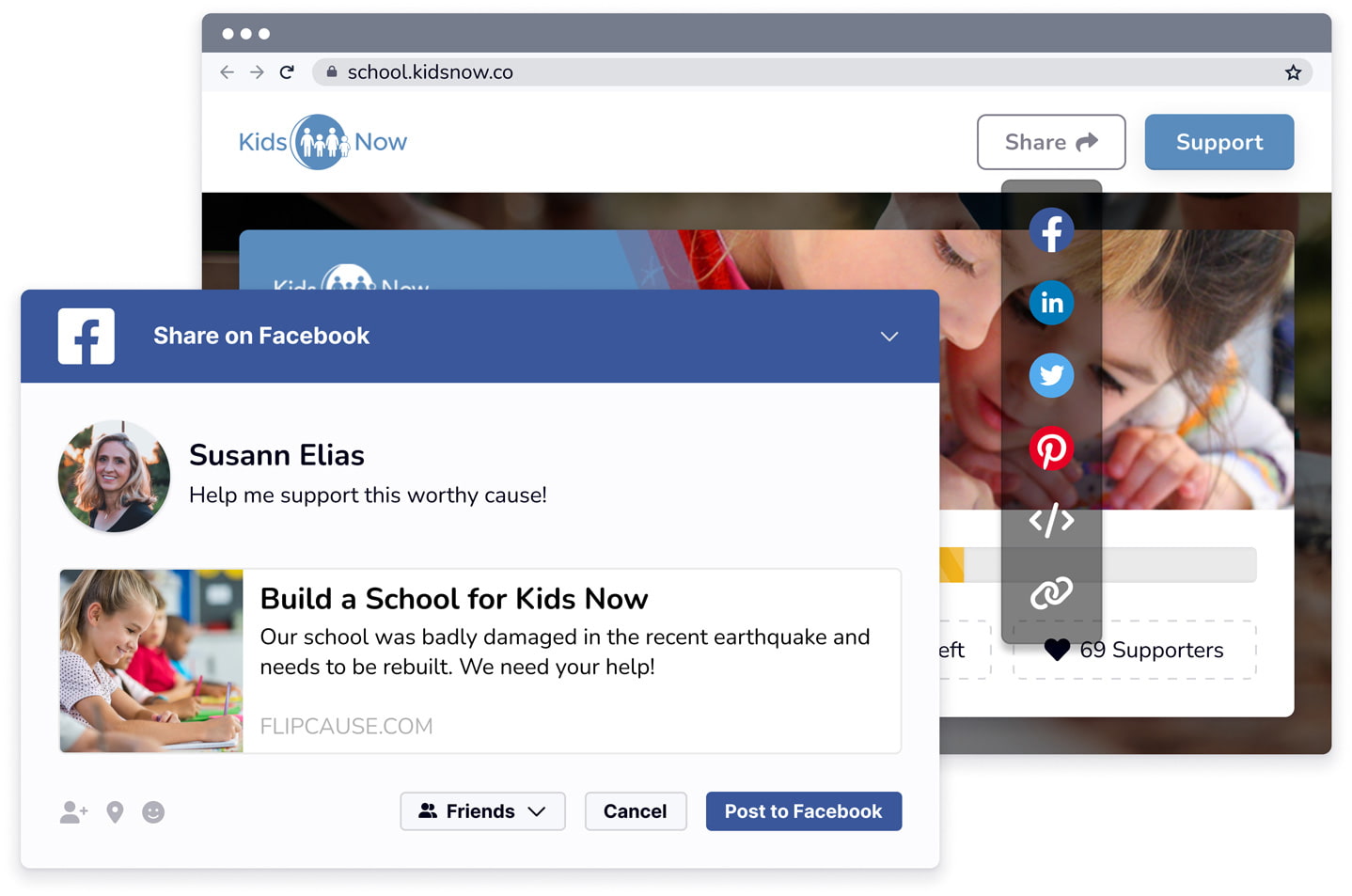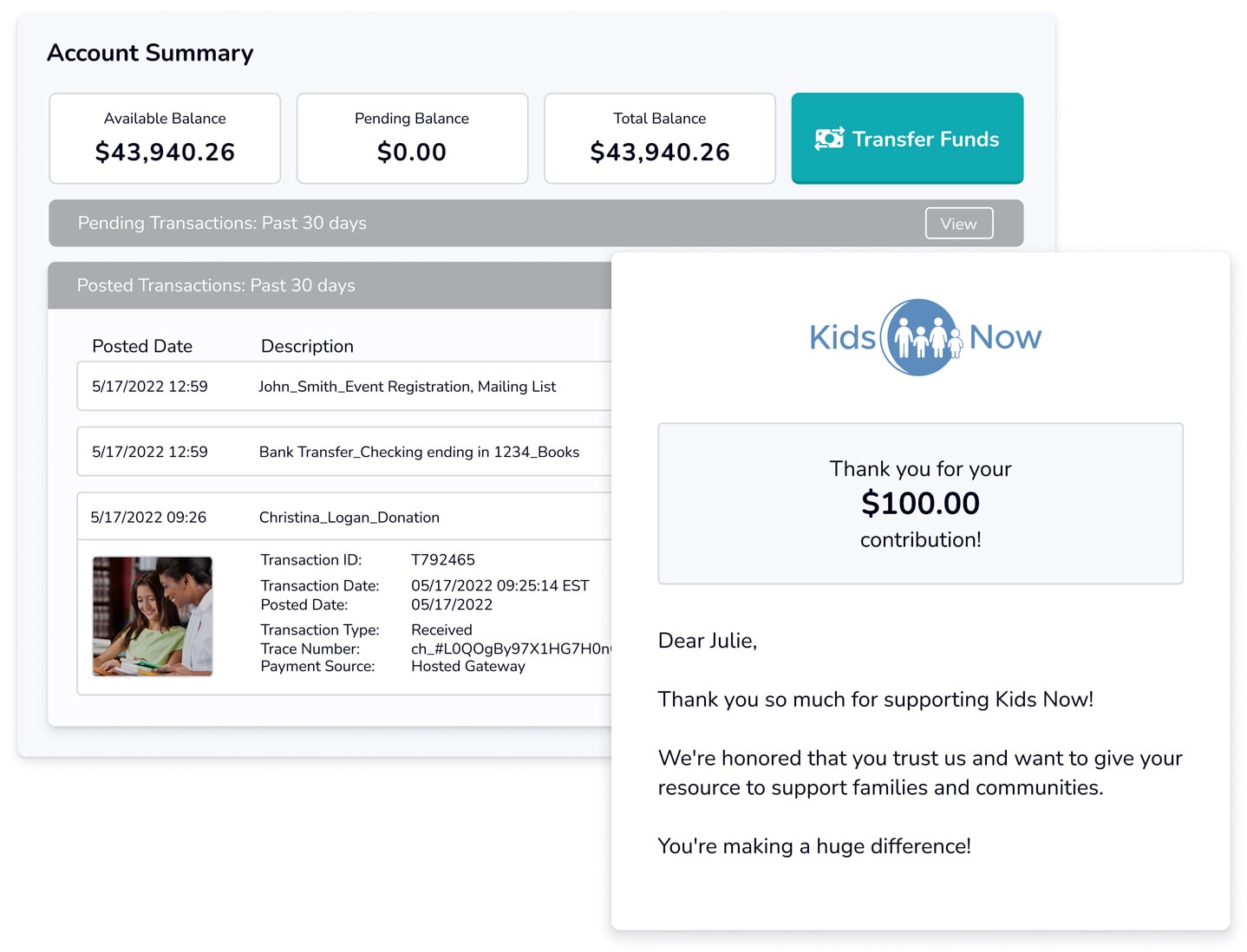 Specifically for nonprofits
Your funds are available immediately in your account and all your data goes directly to your database. And your donors get automated tax-deductible receipts and thank-yous.
Ready to launch your campaign on Flipcause?
Add-on donations, purchases, anything
Sell merch, offer add-on donations, show volunteer shifts, or even event sponsorships during your event registration process. You can allow any
combinations of engagements
to occur in a single transaction by turning on
the cart feature
.
Industry-low processing cost
By offering your supporters the option to cover the fee, you can expect an average transaction rate of 1%, and have the peace of mind that you'll never go above 1.5%. Plus, your funds are available to you immediately. Unlike many others, we don't make you wait for a payout.
Don't miss a thing
All ticket sales and registration activity are logged to your
Centralized Activity Tracker
on Flipcause, where they are stored together with
your other integrated tools and engagements
using Flipcause, providing an at-a-glance holistic record of supporter history. Never miss an opportunity to tailor your outreach and engage better with your constituents now that you have all records in one place.
Sound like a lot? Let us build it for you
Technology should empower, not overpower. That's why in addition to easy-to-use customizable features, at Flipcause you also have a Success Team and Concierge Services to do it all for you. Anything you want to build on Flipcause, just delegate it to us.
CROWDFUNDING FEATURES
Replace your Indiegogo with Flipcause to save on processing costs
Custom-branded landing page
Fundraising goals & progress meters
Automated receipts & thank-yous
Add peer-to-peer & text-to-give
Refined tax-deductibility
Social media sharing tools
Funds directly to your account
Custom giving levels, rewards, & engagements
"I love everything about Flipcause. Crowdfunding is a piece of cake. Online donations are easy. Donor data collection amazing. Customer service is excellent. I LOVE Flipcause."
Nancy B., Founder and Executive Director
Los Gatos, CA
Customer since: August 2016